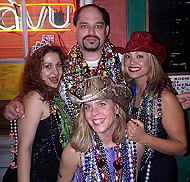 Beadmeister's™ Little Page
Last updated: Thursday, May 29, 2003 02:02 PM
newsflash - I just learned that my 'neworleans.com' e-mail account hasn't been working since last December. If you've sent anything to that address since then, there's a 100 percent chance I didn't receive it. So, if you sent something important, please resend to my other address by clicking here. Thanks!
Ok, now back to our regular programming...
---
Nutn' fancy, just a few of this, that and the other. Note of caution: No nudity is here. Some censorship has taken place, but you should be able to look at the pictures and get the general idea ;) One day when I have time, I'm going to build a new Mardi Gras party site. Another note of caution: if you can't take a joke, then turn around right now, and get the hell out of here!
Scroll Down
Mardi Gras 2003 Recap
Mardi Gras 2003 was great, as usual. However, the event as a whole was glaringly out of balance. This is nothing new, however. The same thing happened about 1987 and again in 1994 and 1995. All in all, the same amount of fun was had as always, but just in different areas of the event and in different ways. Mardi Gras 2003 had a noticeable and obvious negative effect -- or at least not meeting expectations -- when it came to Mardi Gras "newbies," those who attended for the first time in 2003 or who have only attended a few Mardi Gras. There was also a little disappointment on the part of quasi-veterans, those who've attended all of the "balanced" Mardi Gras celebrations and have become somewhat "spoiled."
Personally, I had a GREAT time and didn't let the imbalance bother me one bit! I hadn't been in town one hour when I realized that Mardi Gras 2003 was going to be way out of balance; so I just reflected back on the 87, 94, and 95 celebrations and used that experience to alter my plans, etc. so the imbalance of 2003 wouldn't have a negative effect. And it didn't! I enjoyed every bit of Mardi Gras 2003 just as much as I've enjoyed every Mardi Gras. Here's what I did...
People were bitching about parades, before I even went to my first one. So, I just showed up earlier and picked a spot/crowd that would be "safe" and allow me to catch plenty of beads (mission accomplished). Also, my expectations were realistic -- with the logistics of a major parade, SOMETHING is bound to go wrong; so I was well-prepared for the breakdowns and other minor delays. Anyone who has ever attended a parade should know this, and plan accordingly. I'm just thankful that there WERE parades, and that the krewe riders braved the elements and made many people, myself included, very happy!
There were also complaints that "flashing" was "down." I agree that it was down overall, and am not sure what caused so many sour attitudes this year, but it didn't affect me in the least. Since demand was down, I adjusted my "supply" to a level BELOW what the demand was, and stocked with only premium-quality beads. We all know what happens when demand exceeds supply :) When all was said and done, the flashing was fast and furious for me, and I ended up with the same number of pics and memories that I always do. There are some very happy and grateful ladies out there!
Another complaint was the weather. WHAT weather? If you bring the clothing, etc. that is suggested, the weather is a non-issue. Nuff said.
Mardi Gras is a FUN EVENT FOR FUN PEOPLE. If you're going to bitch and whine, or refuse to flash (assuming you've ALREADY flashed in years past), or try and start fights with everyone you see -- stay home! We, the fun people of Mardi Gras, don't want or need you.
In summary, Mardi Gras 2003 was an excellent Mardi Gras for all who let it be and made the necessary adaptations. I loved every bit of MG-03, and wouldn't trade my MG-03 experience for anything!
New Mardi Gras Web Site
A web site entitled "Beadmeister's Mardi Gras Guide -- Everything Mardi Gras" is set to debut in about three months. I've been working on the site for a little over a year, and it's a real site -- not like the little "Mardi Gras Man" page of years past, and not like the novelty page you're reading now.
The site focuses on Mardi Gras in New Orleans. No other Mardi Gras celebrations will be included. It will run the full gamut -- everything Mardi Gras -- including parades, king cakes, balls, krewes and their histories, king cake recipes, beads, trinkets, coconuts and care, Mardi Gras history, survival tips, in-depth reviews of New Orleans eateries, clubs, and music venues; floats and float-making, costuming, flashing, hotels, B&B's, nearby camping facilities, traffic and parking laws, alcohol-related laws, how to throw a Mardi Gras party, a Mardi Gras glossary, a New Orleans glossary, a listing of annual Mardi Gras-related events, on-line hotel, car, and travel reservations; on-line purchasing of beads and Mardi Gras supplies, history of New Orleans' famous landmarks, links to all New Orleans krewe web sites, special features on the "lighter side" krewes, such as KDV and Barkus, parade-watching suggestions and route information, Bourbon Street balcony pricing and information, on-line ordering of drink mixes such as the Hurricane and Hand Grenade, on-line ordering of parade grandstand tickets through Ticketmaster, an extensive listing and purchasing system for Mardi Gras books, movies, and documentaries; fully-functional Mardi Gras discussion forum, a room/roommates-needed "classified ads" section, information on how to make your own beads and costume, photography tips, information on how to obtain public tickets to certain krewe balls and events, and about 50,000 other things pertaining to Mardi Gras in New Orleans.
The site is being built with all basic navigational tools, plus extended tools for those of you with modern browsers. There will be a site search feature, site map, photo gallery, e-mail newsletter subscription service, real-time New Orleans weather forecast, and lots of other useful site tools.
Beadmeister's Mardi Gras Guide -- Coming soon to a web server near you!
News You Can Use - From Da' Quarter!
Drinking Permits Now Available
by Caveat Emptor, Correspondent
New Orleans police will rigorously enforce a little-known law regulating the consumption of alcohol during Mardi Gras. Enacted in 2000 and applicable to Orleans Parish, the Mardi Gras Alcohol Consumption Permit Law requires all individuals who consume alcohol in public places to have a permit.
The permits, which are valid during the two weeks leading up to Fat Tuesday, may be purchased at the New Orleans Police Department's Royal Street location or over the Internet from Bigboy Enterprises, who is selling the permits at $60 each to Internet customers who sign up with PayPal.Com and send their fees to the e-mail address: pat@neworleans.com
Authorities are urging people to carry drinking permits at all times while in public, and stress that stiff penalties will be assessed against those caught without permits during random checks. The owner(s), webmaster(s), and/or other individuals associated with this web site and/or other web sites or e-mail addresses incorporated herein by link, assume no responsibility, nor shall be held liable under any circumstances for, the (in)accuracy or stated purpose, and/or consequential damages that may arise from the use of, any information contained herein, whether stated expressly or implied. Caveat emptor.
Bead Bartering Book Release
The long-awaited and oft-debated book, Deeds for Beads, will be released in electronic form on February 15, 2003. According to the author and publisher, financial issues prohibit the release of a paperback version at this time, but there still exists a sizeable demand for the book among web-surfers and traditional sellers of novelty books. Billed as a "novelty book," the publication covers all aspects of the popular "bead-trading game" that has taken shape in the French Quarter over the past two decades, and which is now played at other events.
"The goal of my book is very simple," states Beadmeister, the author; "it is to promote and increase the fun of playing the bead game." He went on to say that many people falsely assume the "deeds" are always sexual in nature. "That's not the case at all," he insists. "While it's true that some deeds carry sexual overtones, not all do -- and they are all quite fun if you know how to play the game." The book covers such topics as bead types, balcony and street-trading strategies, negotiation strategies, safety concerns, courtesy and etiquette, and tips and techniques for properly maintaining, carrying, and storing your beads. Care has been taken in presenting both male AND female strategies and concerns. "It's a two-way street but with competitive and sometimes conflicting goals and strategies," says Beadmeister, "and that's what makes the game so fun! Both males and females should be able to have fun playing the game."
Deeds for Beads will be released in electronic PDF format, and may be read by Adobe Acrobat Reader or Adobe eBook Reader software, both of which are free and may be downloaded from Adobe Systems. The price is $12, and a security-serialized copy will be e-mailed to each customer upon receipt of payment. Pre-orders are now being taken, and customers wishing to pre-order will be given a $2 discount. Payment is made via PayPal, a secure on-line transaction processing system, using a credit card number. The number will be captured by PayPal and held confidential for the particular business purpose. At no time will your credit card number be seen by, or accessible to, the book's author/publisher.
Houma, Louisiana: The City that Mardi Gras Forgot
Nestled among southern Louisiana's picturesque bayous and moss-covered oaks, the quaint little town of Houma is the essence of Cajun family life on the bayou.
Editor's note: Despite the fact that we qualify for Houma Tourism's "qualified travel writer" designation, they never offered to handle our travel and lodging as they purport to do. We will finish this article once we can get onsite, first-hand information about Houma. Until such time, we explicitly recommend New Orleans for all of your Mardi Gras needs. Observation: Editor's note takes up more space than the article itself.
Police Test Cameras as Possible Evidence-Gathering Tool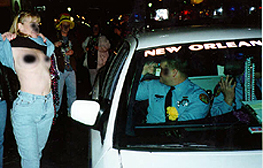 The DA's Office and Police Department in New Orleans recently came under fire for not being thorough and expedient enough in their investigation, presentation of evidence, and prosecution of serious and dangerous crimes, such as flashing. A new evidence-gathering tool currently being tested for its potential in the prosecution of SERIOUS CRIMINAL OFFENDERS is the camera. Another item, believed to be useful in identifying suspects who are already in custody is the new, bead-like, purple, green, and gold handcuffs--like those hanging from the rear view mirror in the photograph.
Angry Residents Take Stand Against Tourism and Economic Growth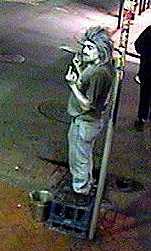 "We've had enough! We're taking OUR community back, damnit!" was the cry recently heard around the French Quarter as angry residents took to the streets and protested out-of-towners' use and enjoyment of the historic neighborhood. As part of a "Zero-Tolerance" movement introduced by neighborhood associations and supported by newly re-elected councilwoman Clarkson, residents took positions atop milk crates placed at strategic, tourist-laden intersections throughout the French Quarter, making what was deemed by one resident as "appropriate, community-accepted gestures and remarks" to "that moronic filth which infests our private, exclusive neighborhood."
When asked if she was referring to people who urinate in public or litter in private yards, the resident responded, "That is not the point. They are tourists. Even though only one percent of them cause ninety-nine percent of the problems, we feel that the entire one-hundred percent should be held accountable." When asked her name, position in community leadership, and profession, the resident fled quickly by bicycle, subsequently losing control (of the bicycle) and being run over by a street-cleaning machine that she had bragged about only seconds earlier. According to one observer, the woman "built a monster, and the damned thing ate her." Op. Ed....Mutiny on Bourbon?
Tragedy Strikes Quarter as Religious Crusade Backfires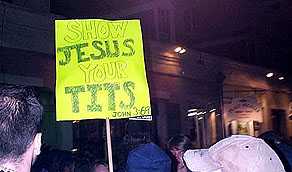 Amidst a religious group's overzealous protest near Jackson Square, a small group of intoxicated Carnival revelers managed to divert the group's attention long enough to alter their crusade signs. Shown in the accompanying photograph is one of many unsuspecting crusaders making his way down Bourbon Street. When asked about the deluge of cheers coming from onlookers, one crusader remarked "everyone here is filled with the Holy Spirit tonight, and I am thrilled that our signs seem to be getting the message across." Ironically, the crusader died of an apparent heart attack while inspecting [at the request of our reporter] the words on the sign he was carrying.
What are Your Chances of Meeting a Celebrity in the Quarter?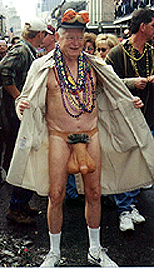 What are my chances of meeting a celebrity while in the Quarter for Mardi Gras? That is one of the most popular questions asked of city officials and hotel staffs. Surprisingly, according to one source, it is easier than you might think. John Goodman is known to frequent the area, and Luke Cage became the latest transplant barely a year ago. Also seen in the Quarter during Mardi Gras was Drew Carey, cleverly disguised in a long, pink coat and wearing a pink hat.
"I just can't get enough of this place. It seems that everywhere I go, people know me, accept me, and enjoy watching me walk down Bourbon Street," says former President Jimmy Carter, pictured at left. "I don't know whether it's the neighborhood or what, but something really stands out down here -- I don't even need to remind them to 'just call me Jimmy.'"
It is also said that pop superstar Britney Spears now frequents the Quarter, since turning 21. Our sources have not been able to confirm Spears' presence; however, one eyewitness says she was last seen running down Bourbon Street, bodyguard in tow, trying to flee a grey-haired man from Arkansas known only as "Bill."
Size: Does it Really Matter?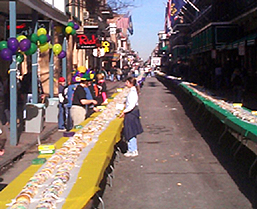 No, Brit! Keep running; don't pay attention to this article. That guy chasing you, lunging, and yelling "close, but no cigar" is not so benevolent as to endow you with an unbiased answer to that question. Run!
Ok, back to the news. The oft-debated topic of "who has the longest one of all" was recently decided on the 300 block of Bourbon Street. The winner? McKenzie's Bakery. We hear that McKenzie's is now defunct. Sources say that the bakery, in breaking the world's record for the longest king cake, were so happy that they forgot to invite people to partake of the large cake, thus incurring a huge expense with no offsetting revenue. Our reporters have also noted that the area around the cake -- the entire 300 block of Bourbon, which is pictured -- is almost empty. McKenzie's actually had one of the best king cakes around :(
Metaphoric Jell-O Shooters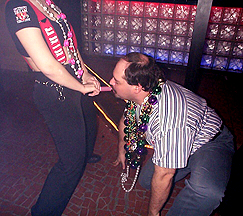 People in the French Quarter are hysterical about a Nashville man's recent behavior in a local watering-hole. The man was, as he termed it, "thinking outside the box" when he purchased a $2 Jell-O shot and gave the server, a 27-year-old female, a $5 tip. Sources at the establishment contend that the man, although thinking "outside" the box, actually had his sights set "on" the box. When asked about the incident, both server and Customer said they enjoyed the ordeal and it was good, clean fun -- quickly pointing out that the man just isn't the "Rawhide" type. When asked whether he sucked the Jell-O or if the server dispensed it by thrusting her pelvis against the tube, the man declined comment, asking our reporter if he could borrow one more five dollar bill.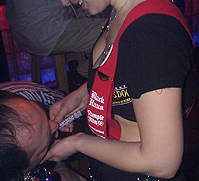 Update: He did it again. We fired our reporter.
Miscellaneous Tidbits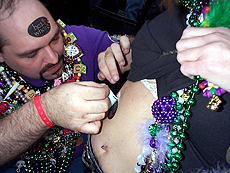 Applying tattoos the correct way. It's a nasty, filthy-ass job; but SOMEBODY'S gotta do it.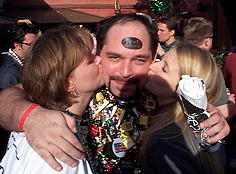 But the reward makes it all worth it.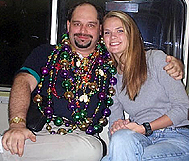 And so it goes -- the Party Train rolls back through Tennessee, and another Mardi Gras in the life of a wild-ass partier draws to an end and is now in the books. Cheers!